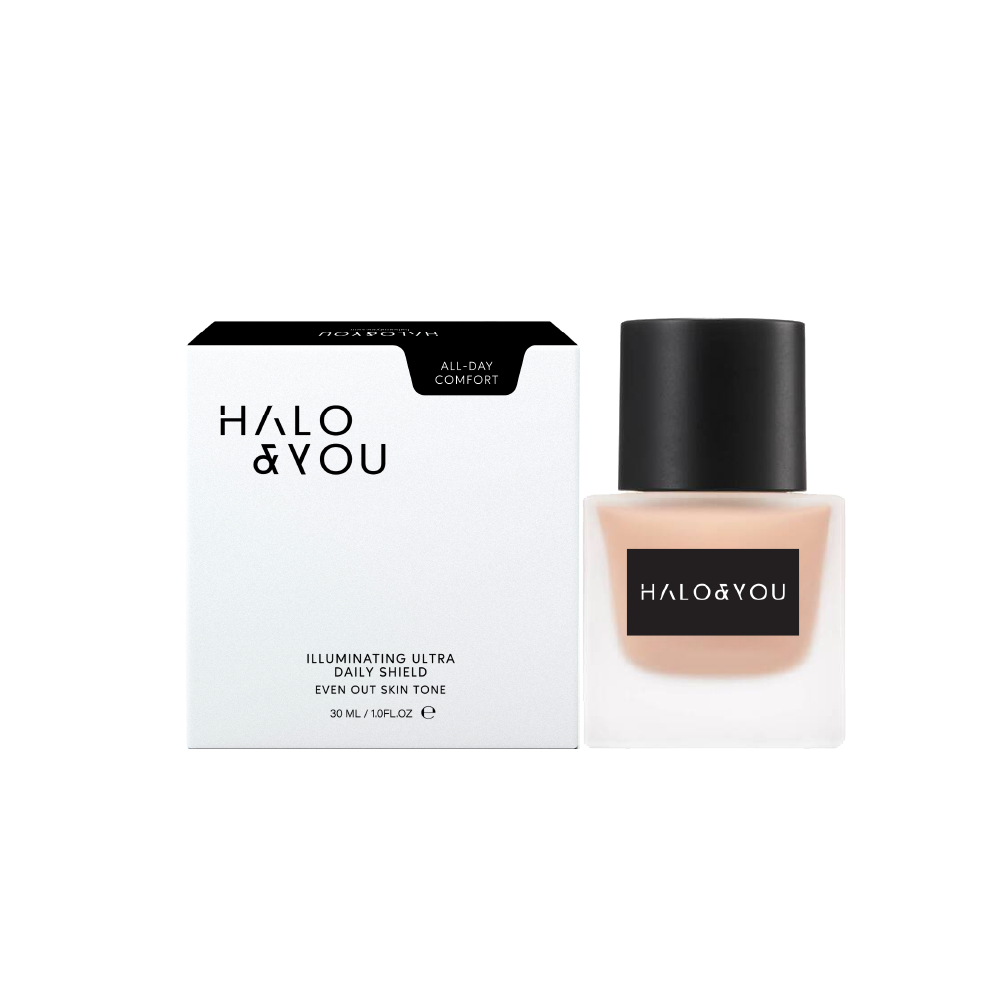 Halo and You
FREE Illuminating Ultra Daily Shield SPF30
Meet our lightweight SPF 30 to hydrate, glow, and even skin tone with niacinamide, tranexamic acid, calendula officinalis flower extract and others.
Halo & You Illuminating Ultra Daily Shield SPF30 is developed with a gentle formula that delivers a dewy glow and protection for every skin tone without white cast, stickiness or greasiness.
1. SPF 30
SPF 30 protection against UV rays
2. Lightweight texture
3. Skin-whitening
4. Moisturize the skin
5. Skin-brightening
6. Reduce premature skin aging
7. Soothe and calm the skin
8. Improve and lighten dark spots
9. Strengthen skin barrier
10. Oil control


⧕ Glycerin - Improve skin barrier function
⧕ Ascorbyl Glucoside - Balance uneven skin tone
⧕ 3-0-Ethyl Ascorbic Acid - Skin-brightening properties
⧕ Glycyrrhiza Glabra Root Extract - Reduce redness and irritation
⧕ Morus Alba Leaf Extract - Protect skin from UV rays
⧕ Prunus Speciosa Flower Extract - Antioxidant
⧕ Thaumatococcus Danielli Fruit Extract - Reduce dark spots
⧕ Calendula Officinalis Flower Extract - Promote wound healing
⧕ Paeonia Suffruticosa Extract- Protect the skin from free radical damage induced by UV radiation
⧕ Polygonatum Odoratum Extract -Increase elasticity of the skin
⧕ Oenothera Biennis Extract - Reduce fine lines and wrinkles
⧕ Bisabolol - Skin soothing
⧕ Zingiber Officinale Root Extract - Fight inflammation
Recommended method of use:

15 minutes before sun exposure.
Shake well before use. Apply proper amount on the entire face and spread evenly.

Reapply:
Every 2 hours or after swimming, sweating or drying off.

1 bottle per box x 30ml
customer reviews

most asked questions
In order for the facial mask to work effectively, do not take off the mask until it turns completely transparent and dry on the skin. The drier the mask is, the more obvious the "white spots" will be. Soak the facial mask in water for 30 seconds to 1 minute. If the two actions above have been taken but still the dirt and oil are not showing on the mask, that means the user's skin is fairly clean, and user can apply the mask less frequently than originally recommended.
The mask itself is very hydrating for the skin. The hyposensitive organic fiber of the mask holds all the essence for your skin to draw out and absorb. During the process, the mask gets drier but the skin will become more plump and supple, as a result of increased hydration.
The mask uses hyposensitive ingredients, and has to pass strict testing and inspection before leaving the factory. However, we cannot rule out the possibility of individual discomfort due to different skin types. If there is a concern, skin sensitivities testing behind the ear lobe is suggested before use.