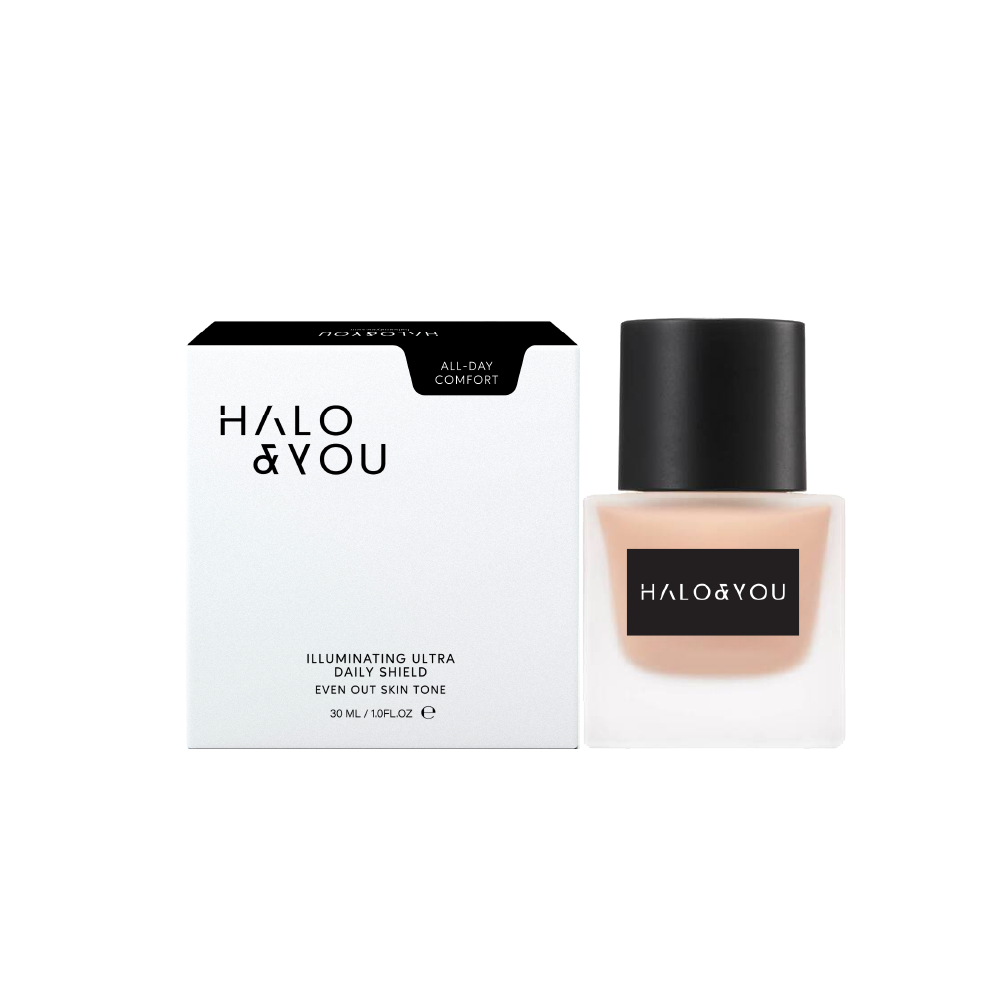 Halo and You
FREE Illuminating Ultra Daily Shield SPF30
Meet our lightweight SPF 30 to hydrate, glow, and even skin tone with niacinamide, tranexamic acid, calendula officinalis flower extract and others.
Halo & You Illuminating Ultra Daily Shield SPF30 is developed with a gentle formula that delivers a dewy glow and protection for every skin tone without white cast, stickiness or greasiness.
1. SPF 30
SPF 30 protection against UV rays
2. Lightweight texture
3. Skin-whitening
4. Moisturize the skin
5. Skin-brightening
6. Reduce premature skin aging
7. Soothe and calm the skin
8. Improve and lighten dark spots
9. Strengthen skin barrier
10. Oil control


⧕ Glycerin - Improve skin barrier function
⧕ Ascorbyl Glucoside - Balance uneven skin tone
⧕ 3-0-Ethyl Ascorbic Acid - Skin-brightening properties
⧕ Glycyrrhiza Glabra Root Extract - Reduce redness and irritation
⧕ Morus Alba Leaf Extract - Protect skin from UV rays
⧕ Prunus Speciosa Flower Extract - Antioxidant
⧕ Thaumatococcus Danielli Fruit Extract - Reduce dark spots
⧕ Calendula Officinalis Flower Extract - Promote wound healing
⧕ Paeonia Suffruticosa Extract- Protect the skin from free radical damage induced by UV radiation
⧕ Polygonatum Odoratum Extract -Increase elasticity of the skin
⧕ Oenothera Biennis Extract - Reduce fine lines and wrinkles
⧕ Bisabolol - Skin soothing
⧕ Zingiber Officinale Root Extract - Fight inflammation
Recommended method of use:

15 minutes before sun exposure.
Shake well before use. Apply proper amount on the entire face and spread evenly.

Reapply:
Every 2 hours or after swimming, sweating or drying off.

1 bottle per box x 30ml
customer reviews

most asked questions
为了使面膜有效工作,在面膜完全透明并在皮肤上干燥之前不要取下面膜。面膜越干,"白点"就越明显。将面膜浸泡在水中 30 秒至 1 分钟。如果上述两个动作都做了,但面膜上仍然没有出现污垢和油脂,说明用户的皮肤还算干净,可以减少敷面膜的频率。
面膜本身对皮肤非常保湿。面膜的低敏感有机纤维富含非常丰富精华,让您的皮肤吸收。在此过程中,面膜会变得更干燥,但由于水分增加,皮肤会变得更加丰满和柔软。
面膜使用抗敏感成分制作,出厂前必须经过严格的测试和检验。但是,我们不能排除因皮肤类型不同而导致个体不适的可能性。如果有问题,建议在使用前进行耳垂后的皮肤敏感性测试。